Tea smoking is a ancient Chinese cooking technique from the Sichuan region that delicately infuses flavor into food. It sounds complicated, but it is easier than you think!
The key to the smoking process are the tea smoking packets that generate the flavoured smoke. These are made up of equal parts of tea-leaves and uncooked rice with brown sugar and spices. These ingredients are then wrapped in foil and simply placed under the grill grate or directly on the hot coals – then you just close the lid and let the smoke do its magic. Food that is cooked through this process has a whisper of smokiness and light fragrant flavour. 
What Food Is Best For Tea Smoking
There is a great range of foods you can prepare using this unique tea smoking cooking technique. Some of my favourites are:
Chicken
Duck
Pork tenderloin, pork ribs
Seafood – salmon, trout, prawns, calamari, oysters and mussels
Vegetables –  tomatoes, mushrooms and even tofu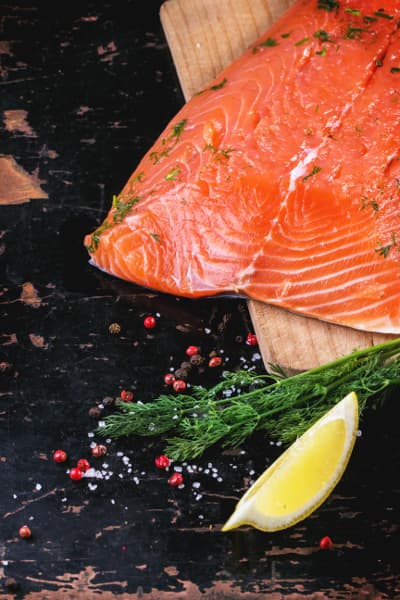 There are  special aromatic ingredients that add extra complexity and flavor to your food. These are made up of equal parts of tea-leaves and uncooked rice with brown sugar and spices. The sugar component is used to speed up the smoking process and caramelize the ingredients – not for the sweetness!
Experiment with a wide range of different tea flavors such as black, green, jasmine, Earl Grey, oolong or lap sang souchong tea.
Some spices and other ingredients you can use to flavor food are: star anise, peppercorns, sichuan peppercorns, cinnamon sticks, cardamom pods, cumin seed, fennel seed, coriander seed, citrus rind and ginger.
How To Prepare The Barbecue
Prepare a medium-high gas barbecue or charcoal grill fire. Clean and oil the grill grate and set aside.
Set the tea-smoking packet directly on the hot coals or on top of a metal burner shield. Put the grate back on the grill and close the lid.
On a charcoal grill, leave the vents partially open and wait for smoke to rise from the vents. On a gas grill, wait 10 minutes, then open the lid to check for smoke. If there is none, close the lid and check again in a few minutes.
Video On How To Make Tea Smoking Packets
Looking for some inspiration in creating your own tea smoking packets? This short video features Robert Danhi, author of Southeast Asian Flavors, making tea-smoking packets for smoked salmon on a charcoal grill and smoked shrimp on a gas grill.