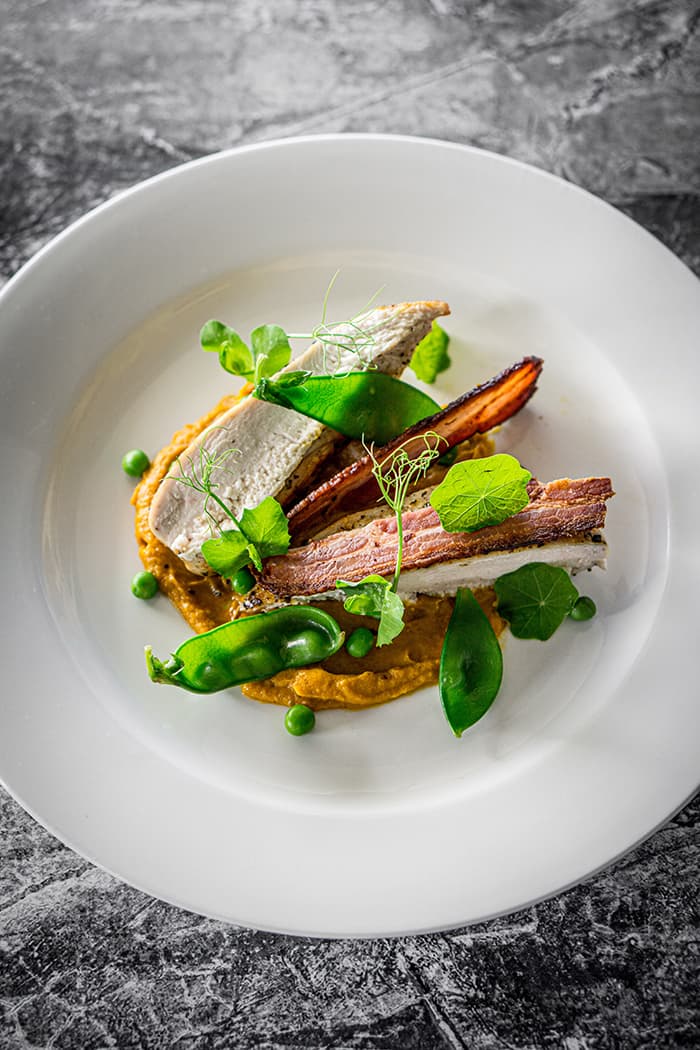 2 chicken breasts
Grapeseed oil or extra-virgin olive oil
Sea salt & cracked pepper
1 teaspoon thyme leaves
4 slices maple bacon or streaky bacon
¼ cup peas
10 snow peas
Snow pea tendrils & nasturtiums
Pumpkin Puree
300g pumpkin, cut small chunks
1 teaspoon cumin
30g butter
2 teaspoons olive oil
Preheat oven to 200°C (400°F) fan forced. For the pumpkin puree, place the pumpkin on baking tray drizzle with oil, sprinkle with cumin, and season with salt and pepper, toss to coat and roast for 30-35 minutes or until tender. Place pumpkin, butter and olive oil in a food processor or use a stick blender to puree until smooth, season to taste. Reheat just before serving time.
Place bacon on a lined baking tray, add another sheet of baking paper and top with another baking tray and cook in the oven for about 10-12 minutes or until bacon is crispy. Drain on paper towel until serving time.
Rub oil over chicken breasts and thyme leaves, season with salt and pepper. Place a non-stick pan over medium to high heat, drizzle with oil and cook chicken breasts for 3 minutes or until golden. Turn the chicken breasts over and cook this side for 2 minutes, transfer chicken onto a baking tray and cook in the oven for 5–7 minutes or until cooked through. Remove from the oven and let chicken rest for 3-4 minutes before serving, then slice in half, length ways.
Steam peas and snow peas just before serving.
On two serving plates swirl pumpkin puree in the middle of each plate. Arrange chicken breast on the top, place two slices of bacon resting on the chicken in the middle. Arrange five snow peas around each plate and scatter with peas. Garnish with snow pea tendrils and nasturtiums and serve.