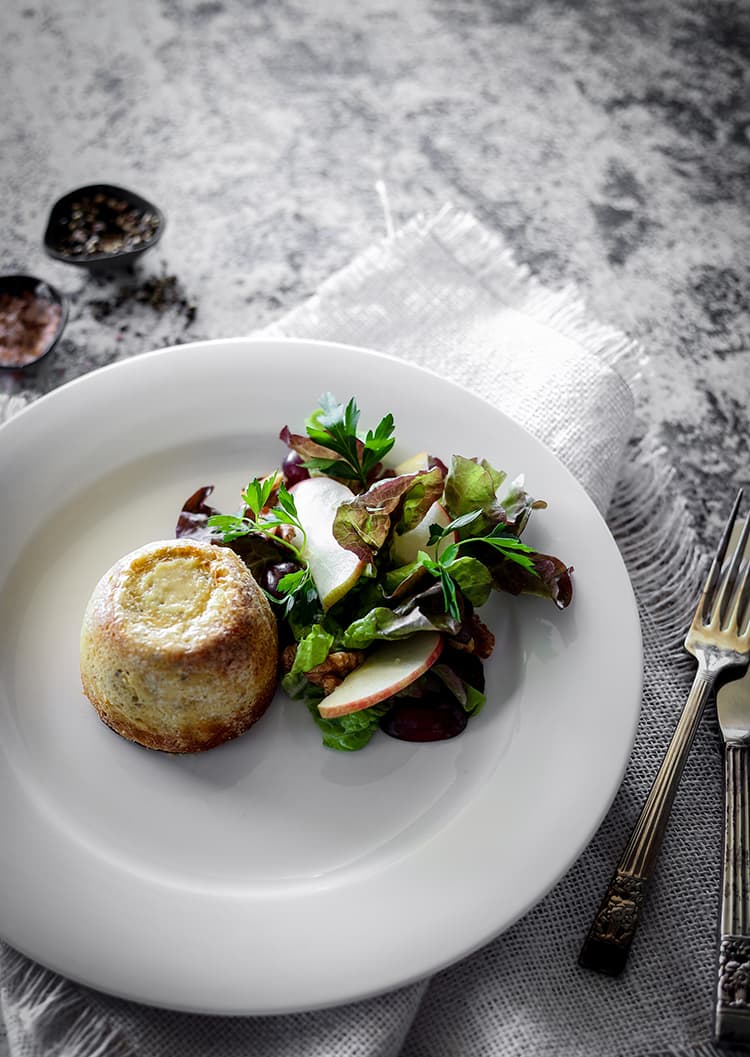 25g butter
3 tablespoon plain flour
115ml milk
60g gorgonzola, crumbled
1 teaspoon parsley, chopped
2 eggs, separated
½ cup (125ml) thickened cream
Breadcrumbs fine (store-bought)
Sea salt & cracked pepper
Garnish
Mescalin leaves
1 bunch black grapes, halved
½ apple, cored, sliced
¼ cup walnuts, roasted, chopped
Preheat oven to 180°C (350°F). Melt butter in a saucepan add flour, stir continuously for 1 minute. Remove from heat and gradually whisk in milk until you have a smooth sauce. Return to heat and cook 2-3 minutes stirring continuously, until thickened. Remove from heat and add gorgonzola, egg yolks, parsley and season to taste.
In a small bowl whisk egg whites to soft peaks. Gently fold egg whites into the sauce.
Grease 2 x (9 x 6cm) ramekins and dust lightly with breadcrumbs. Pour mixture into ramekins and place in baking dish and pour enough boiling water to come 2/3 way up the sides of the ramekins. Place in oven and bake for 10 minutes, then reduce to 140°C (275°F) for another 10 minutes or until puffed and golden. Remove from the oven and cool. Run a butter knife around the ramekins and invert the soufflés onto a plastic wrapped tray, cover with plastic wrap and place in refrigerator overnight if preparing the day before. Otherwise if cooking on the day, invert onto a piece of baking paper.
Preheat the oven to 180°C (350°F). Place walnuts on a baking tray and roast for 4 – 5 minutes. Remove from the oven and set aside.
In an ovenproof dish place half of the cream in the base, place soufflés on top of the cream, top the remaining cream over the top. Bake in the oven at 200°C (400°F) for 15 minutes or until risen and golden again. Remove from oven to serve.
On two serving plates arrange mescalin leaves, apple slices, grapes and walnuts on the side of the plates, place souffles near the salad and garnish the salad with parsley and serve.
This recipe can be made the day before up to step 4. Gorgonzola can be found at supermarkets and gourmet food stores or use mild blue cheese.