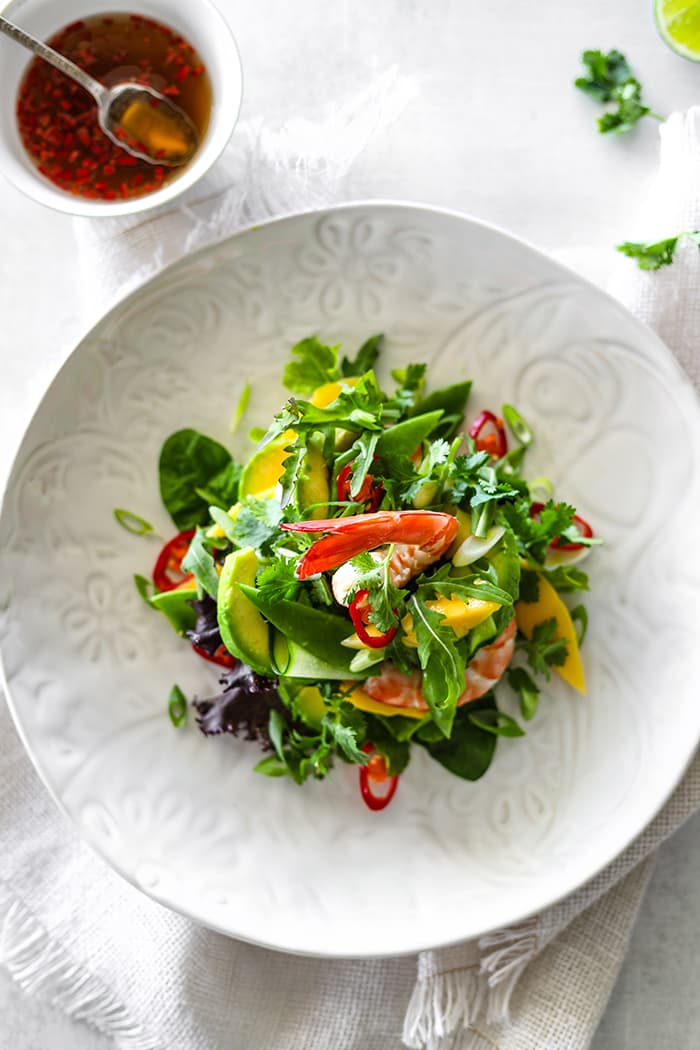 6 or 8 large cooked prawns, peeled & devein (2 prawns leave tails on)
1/2 mango, thinly sliced
½ avocado, thinly sliced
1 red chilli, thinly sliced diagonally
2 shallots (scallions), thinly sliced diagonally
½ cup coriander (cilantro) leaves
1/2 continental cucumber, peeled
8 snow peas, cut diagonally, halved
40g mescalin leaves
Sea salt & cracked pepper
Nuoc Nam Cham Dressing
1 red chilli, finely diced
1 garlic clove, crushed
2 tablespoons fish sauce
1 ½ tablespoons rice wine vinegar
1 cube palm sugar
1 tablespoon lime juice
For the dressing, in a bowl combine, ¼ cup water, chilli, garlic, fish sauce, rice wine vinegar, palm sugar and lime juice, mix well, and set aside.
Prepare all salad ingredients as above.
On two serving plates or bowls, divide the mescalin leaves and place in the middle of each plate. For each plate arrange on top of the leaves, three avocado slices, three cucumber slices, 2 slices prawn, 3 slices mango, 4 snow peas, then scatter half shallots, coriander leaves and 3 chilli slices. Top with 2 more slices prawn and arrange remaining ingredients through the salad. Stand a prawn with tail on – on top of each salad and drizzle over some dressing and serve extra dressing on the side if desired.
Add more or less chilli as desired.