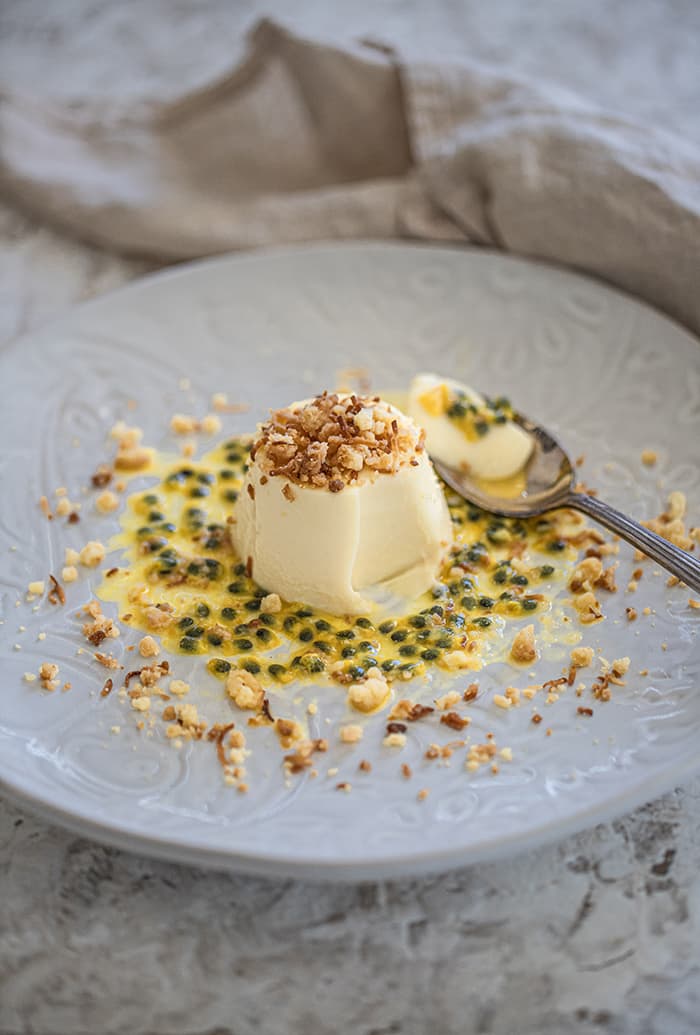 160ml thickened cream
45g premium white chocolate, chopped
1 tablespoon caster sugar
½ teaspoon powdered gelatine
1 slice lime zest
2 large passionfruit
Coconut Crumb
20g butter, melted
3 tablespoon plain flour
1 tablespoon caster sugar
2 tablespoon shredded coconut
For the panna cotta, place cream, caster sugar and lime zest in a saucepan over medium heat, bring to boil then remove from heat. Add chocolate and let stand for a few minutes while the chocolate melts and mix well. Dissolve gelatine in 1 teaspoon hot water and pour into the cream mixture, stir. Strain mixture through a fine sieve and set aside to cool. Pour into 2 x 125ml plastic moulds or ramekins, cover and chill for at least 6 hours or overnight.
Preheat oven to 180°C (350°F). For the coconut crumb, place all ingredients in a bowl and mix through. Place on a baking tray lined with baking paper and cook for 8-10 minutes or until golden. Remove from the oven to cool. Once cool place in a food processor and blitz until you have a crumb texture, set aside.
Unmould panna cottas onto two serving plates, (place moulds in some hot water to loosen the sides if needed) then spoon passionfruit around the base of each panna cotta. Spoon coconut crumb on top of each panna cotta and scatter around the edges of the plate and serve.
Chefs Notes
*This recipe can be made the day before.