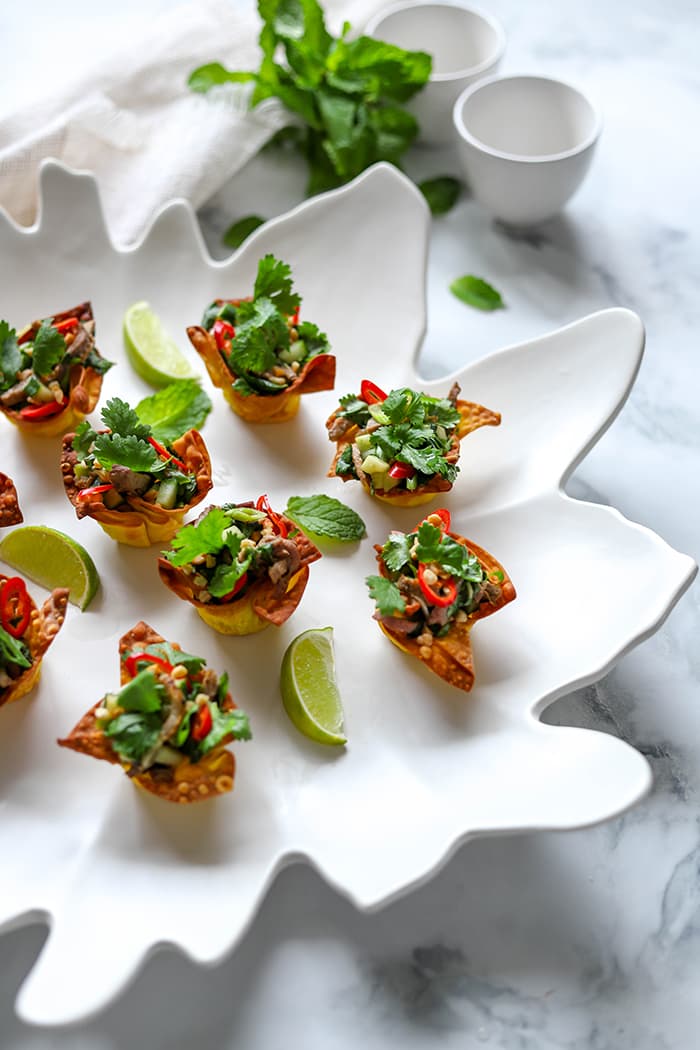 24 wonton wrappers* (store-bought)
Cooking spray or vegetable oil
2 duck breasts
Sea salt & cracked pepper
1 cup continental cucumber, deseed, small dice
1 cup shallots, finely sliced, diagonally
1 cup mint leaves
1 cup coriander leaves
2 red chilli, finely sliced
2 tablespoons crushed peanuts
Dressing
3 tablespoons light soy sauce
1 tablespoon tamarind puree
1 tablespoon hoisin sauce
2 teaspoons sesame oil
1 teaspoon palm sugar or caster sugar
½ teaspoon ginger, crushed
½ teaspoon garlic, crushed
1 lime, juiced
For wonton cups: Preheat oven to 180°C (350°F). Spray mini muffin pan with cooking spray or lightly grease with vegetable oil. Place each wonton wrapper into the muffin pan and gently press down to form a cup, making a flower pattern and lay corners back. Spray tops with cooking spray or brush with oil and bake for 5 minutes or until golden brown, remove from the pan and cool on a rack.
For the dressing mix all ingredients, stirring well to dissolve the sugar and set aside.
Prepare all salad ingredients and chill in the fridge.
For the duck: Preheat oven to 200°C (400°F). Season duck breasts with salt and pepper and place skin side down in a cold non-stick pan (no oil) over medium-high heat for 4-5 minutes, (this will render the fat on the duck breast). Then turn the duck over to seal the other side 2-3 minutes, place on baking tray and cook for about 8-10 minutes or cook to your liking, (the breast should be bouncy to touch). Remove from the oven and rest the duck 5-6 minutes to retain the juices.
Once cool, cut duck breast in half length ways and shred duck with a knife and place in a bowl. Add some of the dressing and place in the fridge until ready to serve.
Toss salad ingredients and shredded duck together, add more dressing as desired and carefully place filling into the wonton cups. Sprinkle with crushed peanuts and coriander leaves and serve.
*You can find wonton wrappers at some supermarkets and Asian grocery stores.