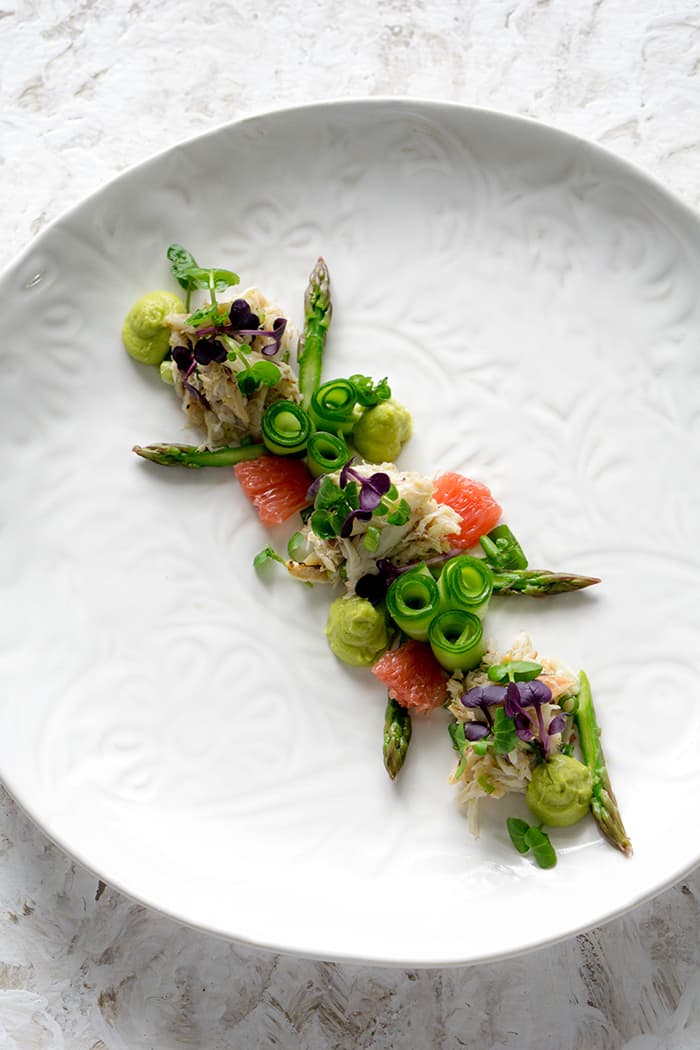 70g crab meat*
2 tablespoon shallots, finely chopped
¼ teaspoon lime zest
1 teaspoon lime juice
1 teaspoon grapefruit juice
1 ruby grapefruit, peeled, segmented, reserve juice
1 bunch asparagus, blanched
1 baby cucumber/continental, peeled
Sea salt & cracked black pepper
Micro herbs
Avocado Puree
½ avocado
1 teaspoon grapeseed oil
1 teaspoon lime juice
In a bowl combine, crab, shallots, lime zest, lime and grapefruit juice, stir to combine and season with salt and pepper, cover and chill in the fridge until ready to serve.
For the avocado puree, place all ingredients in a food processor and blitz until smooth spoon into a piping bag or squeeze bottle.
Prepare each salad ingredients by blanching asparagus in boiling water for 1-2 minutes (pending thickness), remove and run under cold water, then cut the spears on an angle so they are 3 inches long. Segment the grapefruit by removing the skin and white pith, then using a small knife cut between the membranes to remove the segments of grapefruit. Peel the cucumber by using a vegetable peeler, then roll up the cucumber rolls.
On 2 serving plates arrange 3 spoonfuls of crab meat in a line, spaced apart, just off centre across each plate. Place 3 rolls of cucumber together on either side of the centre section of crab meat. Arrange 5 asparagus spears around the salad and pipe 4 dollops of avocado puree at each end and 1 each side of the salad. Place 3 small sections of grapefruit on the salad around the middle and garnish with micro herbs and serve.
*Pre-prepared crabmeat can be found at most supermarkets and fish markets.