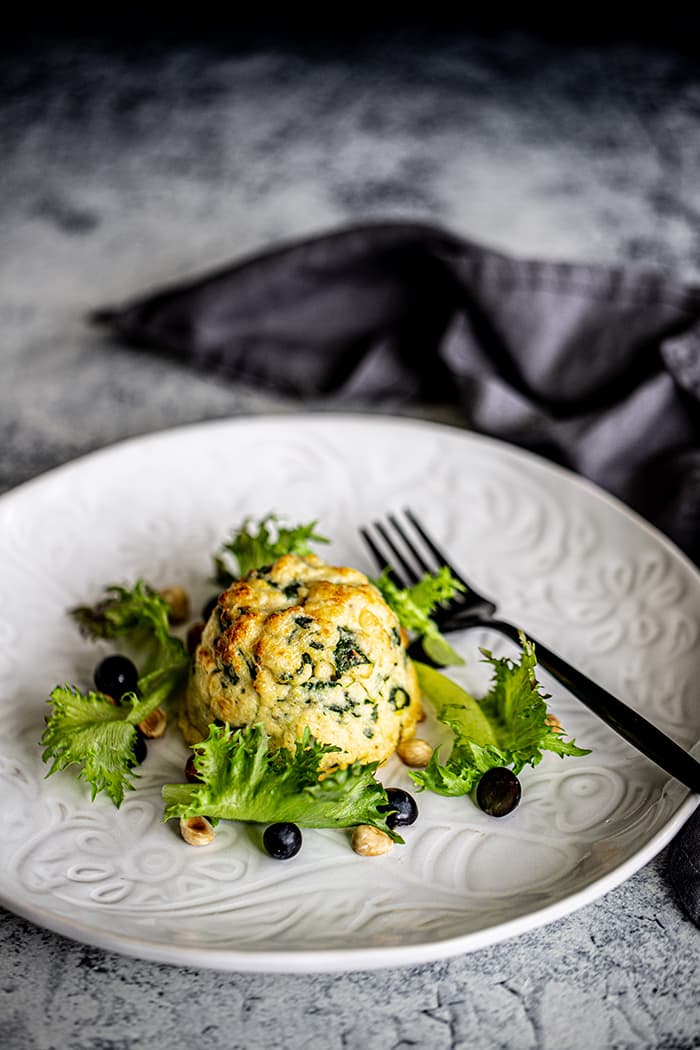 25g butter + extra 
3 tablespoons plain flour
120ml milk
1 cup baby spinach leaves, roughly chopped
1/4 cup Danish feta, crumbled
2 eggs, separated
1 pinch cayenne pepper
100ml thickened cream
Parmesan
Sea salt & cracked pepper
Garnish
Mesclun leaves or curly endive chilled in iced water
1/3 cup hazelnuts, roasted*
black grapes
Preheat oven to 180°C (350°F). Melt butter in a saucepan over medium heat, add flour and stir for 30 seconds. Whisk in milk until you have a smooth sauce and remove from heat. Add spinach leaves, feta, egg yolks and cayenne pepper and mix well, season to taste.
In a small bowl whisk egg whites to soft peaks. Gently fold egg whites into the spinach mix.
Grease well with extra butter 2 x (9 x 6cm) ramekins. Pour mixture into ramekins and place in baking dish with enough boiling water to come 2/3 way up the sides of the ramekins.
Place in the oven and bake for 10 minutes then reduce to 140°C (280°F) for another 10 – 12 minutes or until soufflés are puffed and golden. Remove from oven and cool. Once cool, run a knife around the ramekin and invert the soufflés onto a plastic wrapped tray, place in refrigerator overnight or set aside if you are serving soon.
Place hazelnuts on an oven tray and roast for 8-10 minutes, or until lightly coloured and skins are blistered. Wrap nuts in a kitchen towel and let steam about 1 minute. Rub nuts in towel to remove loose skins and cool completely. If you have skinned hazelnuts, roast in the oven 

180°C (350°F) for 

2-3 minutes, or until golden
Preheat oven to 180°C (350°F). In an ovenproof dish or pan, place half of the cream in the base, place soufflés top side down (slice the top to make it even if needed), top with remaining cream and grated parmesan. Bake for 12-15 minutes or until they rise and are golden. Remove from the oven and get ready to serve.
On 2 serving plates place soufflés in the middle. Arrange drained leaves around the soufflé, place some whole and halved grapes around the leaves.  Scatter around the hazelnuts and serve.
*If you are short on time you can buy skinless hazelnuts in most supermarkets.